What Is The Difference Between WordPress.org And WordPress.com?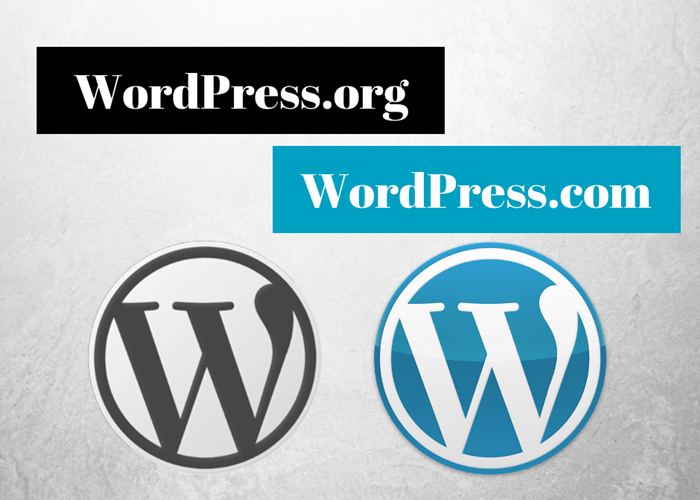 Whether you are a blogger or a website owner, you should familiar with the name WordPress. Indeed, WordPress is currently the most popular content management system. According to WordPresss.org, 31% of the web uses WordPress. Did I just mention WordPress.org? Yes, I mentioned WordPress.org. I guess you also heard of WordPress.com too. So, do you know what is the difference between WordPress.org and WordPress.com?
Don't worry if you are confused with these 2 names, I was confused and not sure what is the difference between WordPress.org and WordPress.com too. In this post, I am going to talk about the different of these 2 platforms, as well as the pros and cons.
Before we dive into more in-depth, let me give you some basic understanding of what WordPress is first. In a more technical aspect, WordPress is an open source software you can use to create your website or blog. It's is free, yes, 100% free. WordPress also has many power features and you are free to build anything you want.
WordPress.org
WordPress.org is the actual open source software that any one can download and use it for free. Sometime, people also call it the "real WordPress". It is managed by a non-profit WordPress foundation.
When you create your website using WordPress.org, you have the control over your website. However, you need to purchase your own web hosting service and domain name. You will need to do the installation on your own too. This is the reason the WordPress.org is also known as self-hosted WordPress. 
I will talk more about the benefits and the disadvantage of WordPress.org later. 
WordPress.com

As opposed to WordPress.org, WordPress.com is a for-profit web hosting services owned by the company Automattic. However, WordPresss.com is also using WordPress.org open source software for their web hosting services.

Hosting your website with WordPress.com is also free. You can create your free website with WordPress.com easily with few clicks of button in less than 5 minutes. Unlike WordPress.org, you have limited control over your website. Although you can upgrade your web hosting service to paid plan, the control over your website is still limited.
In the next section, you will see the pros and cons of both WordPress.org and WordPress.com.
Do You Know …
Matt Mullenweg is the founding developer of WordPress and founder of Automattic, the company behind WordPress.com. 
Pros and Cons
WordPress.org
Pros
You have your own domain name for your website. This make your website appears more professional.
Because it is self-hosted, you have full control over your website and files.
You can customize or change the design of your website the way you want.
Changing the looks and feel of your website is very easy by installing whatever themes you want. There are many free themes available for you to download.
You can install third party plugins to extend the features and function of your website.
There are no restrictions to monetize your website. You can monetize your website with any methods you prefer. One of the easiest ways is via Google AdSense.
Cons
Self-hosted WordPress is not entirely free. You will incur monthly recurring cost in buying a domain name and subscription for web hosting services.
Involve technical setup stuff although it's not difficult but it can be a challenging task for non-technical person.
You need to manage and do your own backups. You are also responsible for your websites security.
WordPress.com
Pros
WordPress.com is a web hosting service comes with free and paid plan. The free plan is entirely free. You can start creating your website with zero cost.
You don't need to deal with technical stuff to set up and configure the WordPress software. What you have to do is sign up an account with WordPress.com and you are good to start.
You don't need to worry about the backups and security. It's will all taking care by WordPress.com
Cons
You don't own the domain name unless you pay for it. Your website is the subdomain of WordPress.com. For example, yousite.wordpress.com.
You don't control over your website. WordPress.com can delete or disable your website at any time if they think that you are violating their terms of service.
For free plan users, you cannot monetize your website with Google AdSense or sell ads on your website.
You cannot install third party plugins to extension your websites function and features.
You cannot install third party themes to change the look and feel of your website. 
Which One Should I Use?
When choosing which platform is right for you is very much depend on what you want to do with your website. If you are about to start a blog site just for hobby then you can start with WordPress.com. It is the easiest way to start a blog site and it's free.

However, if you are planning to start a website for your online business, WordPress.org would be a better choice. With WordPress.org, you would have the flexibility to customize your website to suit your business needs. It makes more sense to you in longer terms.
Always think about what you are going to use your website for and you would have better idea on choosing the right platform.
Conclusion
No doubt WordPress is a powerful and versatile content management system (CMS). Whether you are using it just for your personal blog or use it for serious business, WordPress can suit your need well.

I hope my article could help you gain better understanding of what is the difference between WordPress.org and WordPress.com. Lastly, thank you for stopping by to read my blog post and if you have any question or comment, you are welcome to leave me a message in the box below. Please share it with your friends if you like my post.

To Your Success,
Kwah Choon Hiong