In my last post, I shared about how to setup Contact Form 7. Contact Form 7 is the most popular and oldest WordPress form builder plugin. However, the problem with it is that it is not user friendly. It's configuration involved many technical syntax. For people who wants a user friendly drag and drop form builder, you must read this post. Today, I am sharing with you how to setup WPForms.

WPForms is developed by WPBeginners team. It is a very user friendly WordPress form builder plugin. It comes with drag and drop features. You can easily create a contact within minutes without involving complicated configuration.

In this article, you will be learning how to create a contact form similar to the one as shown below.

Install WPForms Plugin

You can easily install WPForms plugin in your WordPress back office portal.

First, login to your WordPress back office and goto Plugins > Add New.
Enter "WPForms" in the search box to search.
From the search result section you see the WPForms in the list. Click "Install" button to proceed. Once installation done, click the "Activate" button to activate the plugin and you are done.
Before you move on to create the contact form, let's do some setting to enable the GDPR feature. You will be adding the GDPR agreement into your contact form.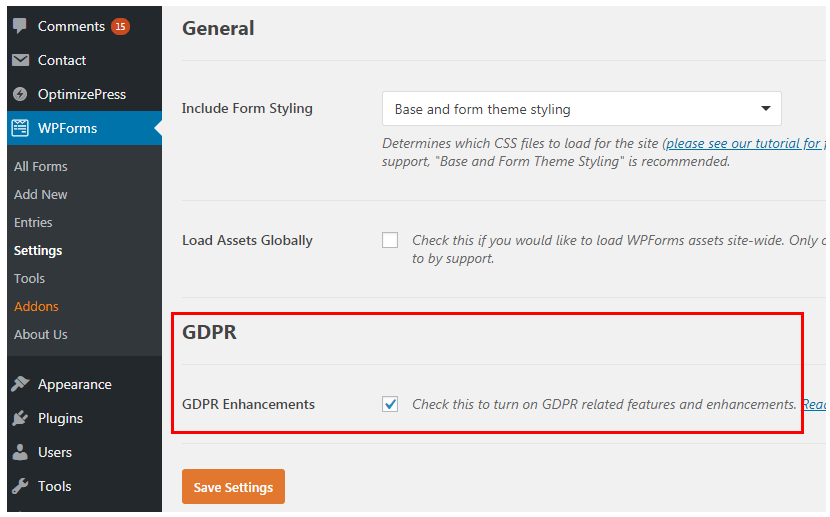 Go to WPForms > Settings and then scroll down to the bottom. You should see the "GDPR Enhancement" checkbox. Make sure you check the checkbox and click the "Save Settings" button to save.

Now, you can move on to next step to create your contact form.

Create Contact Form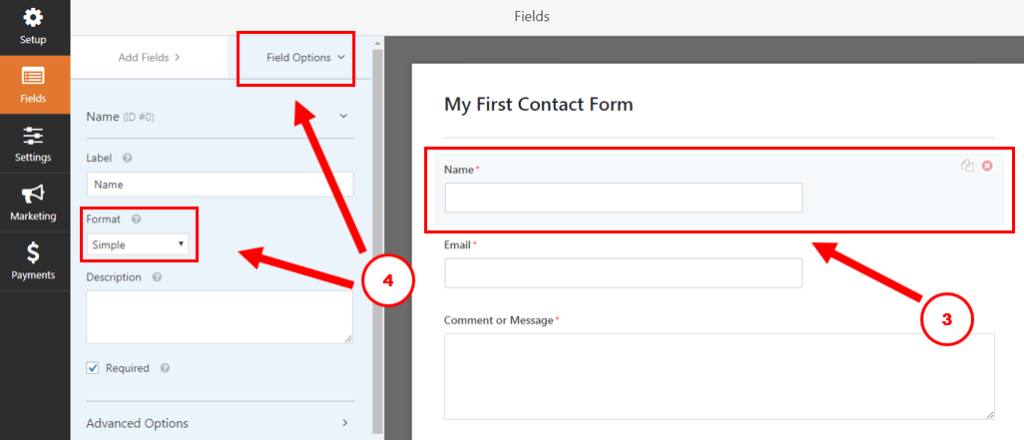 Follow the below steps to create a new contact form.

First, go to WPForms > Add New
Enter a form name. For my case, I name it as "My First Contact Form". Then click the "Simple Contact Form" template.
By default, the simple contact form template split the name into first and last name. But I don't want that. I want to make it into a single field.
Click on the "Field Options" tab. From the format drop down list, select "Simple". This will change the name field into a single field.
Next, you will be adding the GDPR checkbox. Click on "Add Fields" tab and then drag and drop the "GDPR Agreement" to your contact form. It should be right below the "Comment or Message" text area.
Lastly, click the "Save" button at the top right corner to save your contact form.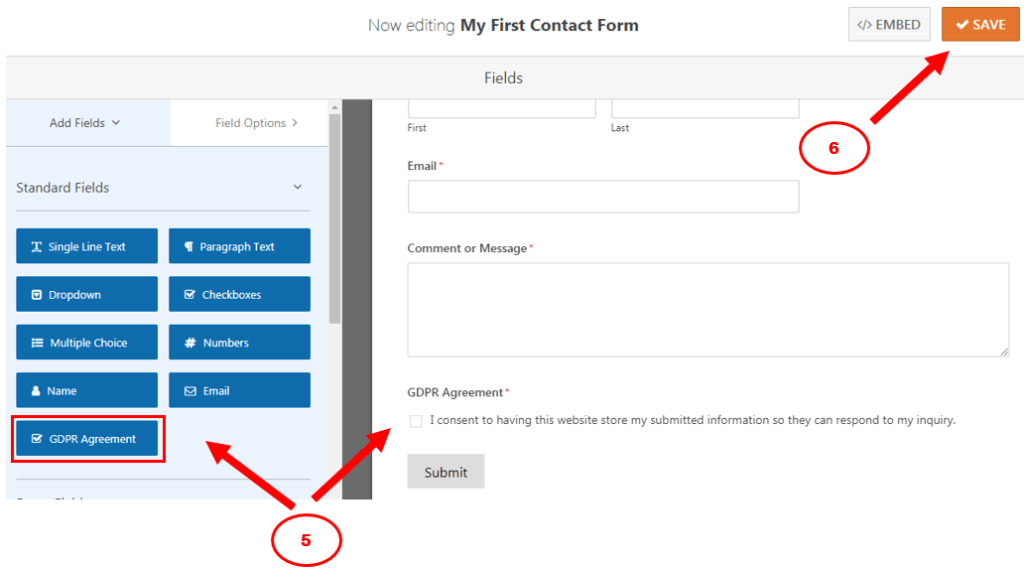 Email Notification

The next step is to configure the email notification setting so that you can receive an email when your reader send you a message.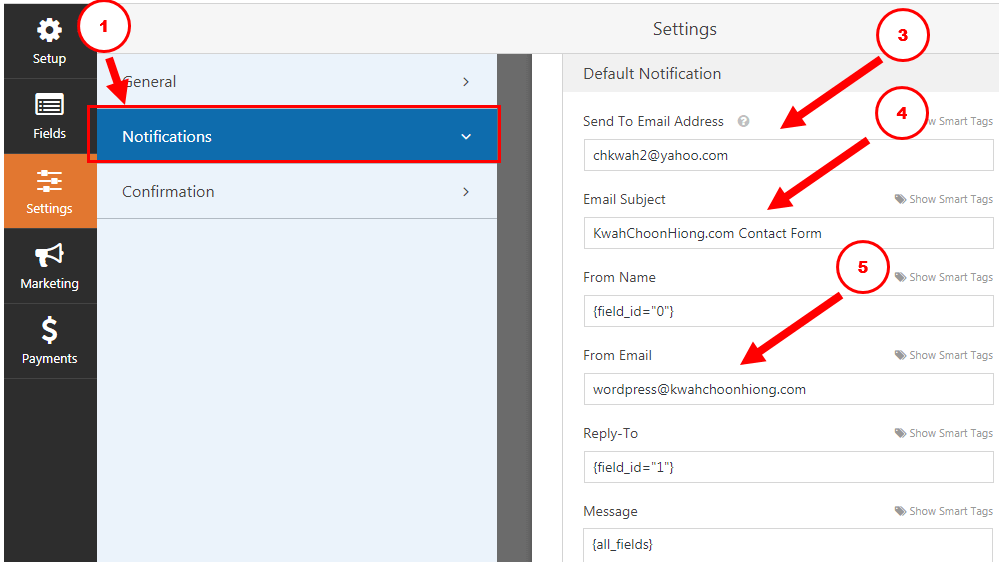 Go to Settings > Notifications and you will see the default notification setting.
You only need to change 3 settings and leave the rest of the settings as default.
First setting to change is "Send To Email Address". Enter the email address that you want to receive the notification.
Next, enter an "Email Subject". You should enter a subject line that you can easily identify it is a notification from your website.
Lastly, enter a "From Email". Please take note the the email address format should be wordpress@yourdomainname.com. I have tried to enter a different format of email address I couldn't receive any email notification. I am not sure what's the reason. Perhaps if you know the reason, please send me a message to share with me. 🙂
Add Contact Form to Page

At this stage, your contact form is ready for action. Simply create a page and add your contact form shortcode to the page.

Follow the below steps to add your contact form to a page.

First, go to WPForms > All Forms and copy the shortcode.
Next, go to Pages > Add New to create a new page. Name your page as "Contact" and paste and shortcode your copied earlier as a new paragraph.
Click the "Preview" button to view and check your contact form. If you are satisfy with it then you can proceed to click the "Publish" button to publish your contact form.

Test Your Contact Form

The last step is to test your contact form. Simply go to your contact form and fill out all the fields and click submit. If everything working fine, you should receive an email similar to the below one.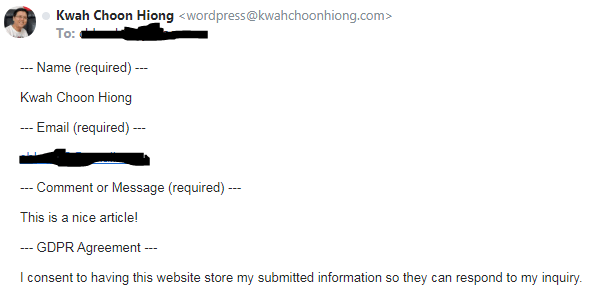 Conclusion
If you don't like to deal with a contact form builder that come with many syntax like Contact Form 7 then WPForms is the perfect choice for you. WPForms has a user friendly user interface for form building. It features with drag and drop function and very easy to use.
I hope you like my article on how to setup WPForms. Please share with your friends if you like it. 🙂

To Your Success,
Kwah Choon Hiong