Canva.com Review: Free Online Graphic Design Tool
Using relevant images in your blog post is one of the important ways to improve the readability of your blog post. This is why I always include many images in my blog posts to reflect what I am talking about. For me, I use Canva, it is a free online graphic design tool.
Before that I was using PhotoScape to edit my image. It is a free graphic editing program. After using Canva, I found that it is easier to edit and create my image with Canva. More importantly it is free.
Image editing is part and partial of my blogging work. An easy to use graphic design tool will definitely save me a lot of time. This is especially important to me as I am not a professional designer.
I use Canva to create image to post on my Facebook page as well. It comes with the right image size for Facebook post. With this I don't need to crop my image any more. I love this feature.
In my opinion, Canva is a good graphic tool for non designer like me. There are many more good features in Canva. Next, I will start my review on Canva. You should read on if you are looking for a free online graphic design tool.
Product Name: Canva
Website: http://www.canva.com
Price: Free to use. Premium membership $12.95 per month
My Overall Rating of Canva: 9 out of 10
What is Canva?
First of all, Canva is a free online graphic design tool for creating amazing professional quality graphic design. It has a very simple to use and user-friendly interface. Anyone and everyone could turn their idea into a stunning design easily.
Canva comes with many powerful features, including a simple drag-and-drop design tool. You have access to vast collection of over 1 million photographs, graphics and fonts.
You can use Canva to create professional graphic design for almost every purpose. Be it to create a flyer, poster, social media posts images or your store logo, Canva has it covered.
Canva Features Overview
For the purpose of this review, I would categorize Canva features into 2 major categories, the templates and design tools.
Templates
Canva comes with over 50,000 design templates for you to choose from. Canva covers almost every design aspects. Below picture is the screenshot of Canva's templates.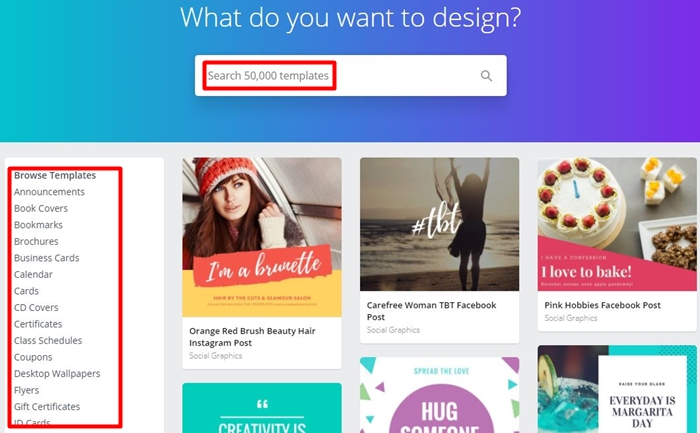 Design Tools
Basically, Canva is a drag-and-drop design tool that very simple to use. As long as you know how to click and move a mouse, you can create a great design with Canva.
Canva is structured in such a way that it provides you the basic working tools with drag-and-drop features to create your design. The basic working tools are as below:
Layouts – beautiful ready to use templates for you to start your design fast
Elements – such as free photos, grids, shapes, lines, icons, frames, charts, illustrations and more
Text – different types of text fonts
Background – beautifully designed background
You can even upload your own images for the designs.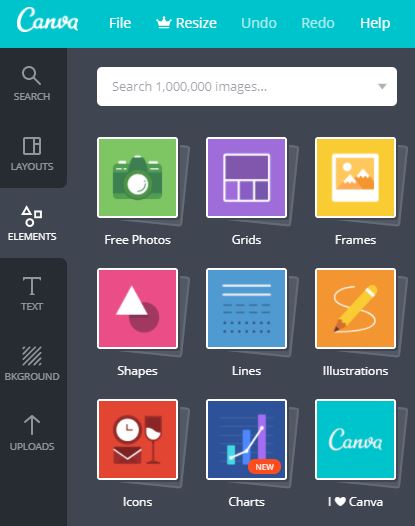 Using Canva to Create Social Media Posts
Have you ever post a picture to your Facebook and it doesn't look nice? This is probably due to the wrong image size used.
Each social media platform recommends different type of image size for posting. For example, the recommended image size for Facebook post is 940 X 788 pixels in PNG format.
I used to create image for my Facebook post by using a photo editing program to manually resize the picture into the recommended resolution. It is a very tedious work.
Thanks to Canva! I can easily create any image for my social media post within minutes now. Canva gives you option to choose the type of social media of the image you want to create. It had preset the image size for you. What you have to do is just drag-and-drop your designs. As simple as that!
Canva supports image post for Facebook, Twitter, Pinterest, Instagram and Tumblr. See the screenshot below.

Create Logo with Canva
Recently, I created a logo for my drop shipping store at my own using Canva. It's simple and amazing! Initially, I didn't aware that Canva does support creating logo and as a result I intend to outsource it to Fiverr.com​.
Lucky me, I did a search in Canva and found that I can actually create my own logo with it. Canva provides many beautiful logo templates for you to start with. Below are some samples logo come with Canva.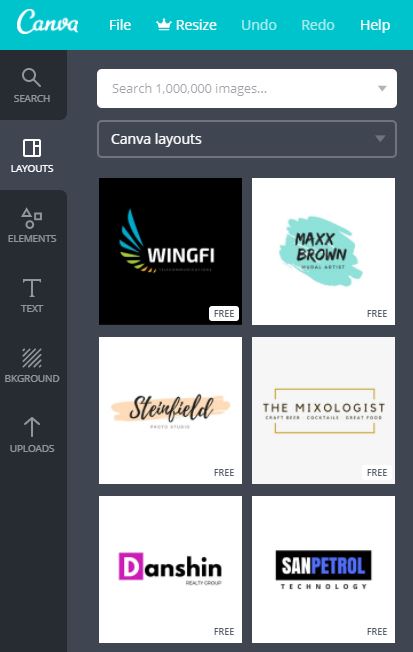 How Much Does Canva cost?
Canva is free to use. All features I have mentioned earlier are all free for you to use. However, besides the free photos, some photos would cost you $1 each. For me, the free photos are actually good enough to create a great design.
You can get started by signing up an account at Canva.com.
If you want more from Canva, you can upgrade to the premium membership called "Canva for Work". It costs you $12.95 per month. You can learn more about what you can get from "Canva for Work" here.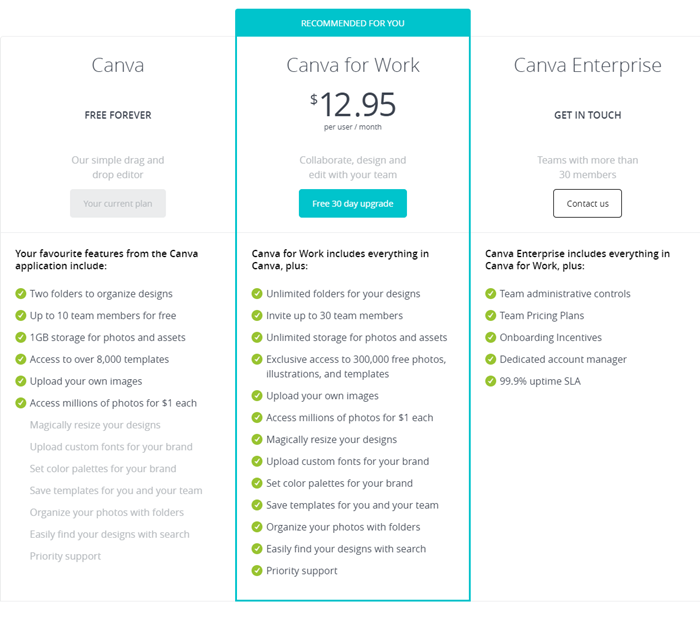 Closing Words
Human are visual in nature. This is why I always insert relevant images in my blog post because it leads to more engagement. I am sure you like to read article that with pictures than just plain text.
However, creating or edit an image can be a very tedious task when you are a non-professional graphic designer. Therefore, a simple to use graphic design tool like Canva is very essential.
I like this product so much and I hope you will like it too. Besides the features I mentioned earlier, there are many more features which I didn't cover in this review. I highly recommend you to try out this free online graphic design tool.
Lastly, I hope you enjoy reading my Canva.com review and thank you for stopping by. As usual, if you have any question on which I didn't cover, you are most welcome to leave me a comment below.
To Your Success,
Kwah Choon Hiong