Bulk Delete WordPress Posts
Have you ever want to bulk delete to your WordPress posts records and you have no idea how to do it? In this blog post, I will be showing you how to bulk delete WordPress posts records.
This is actually a problem I recently faced when I try to delete more than 13,000 of posts records! Yes, 13,000! You may wonder how did I get such a big number of post records in my WordPress website. This is actually a project I did on my job that using WordPress. I customize the WordPress for data collection. However, this is out of our discussion today. Just keep in mind that I use WordPress and I want to bulk delete WordPress posts records. 🙂
How to Bulk Delete WordPress Posts?
By default, WordPress only displays 20 posts records per page. This means that maximum you can only delete 20 records each time. For 13,000 records, there would be 650 pages, which means I have to repeat 650 times to delete all the records. This is insane!
No worry. In this post, I will show you the two easy ways I used to bulk delete WordPress posts from my website.
Bulk Delete without Using a Plugin
First, you need to go to Posts >> All Posts page. Then you can click on the "Screen Options" button, which located at the top right corner of the page.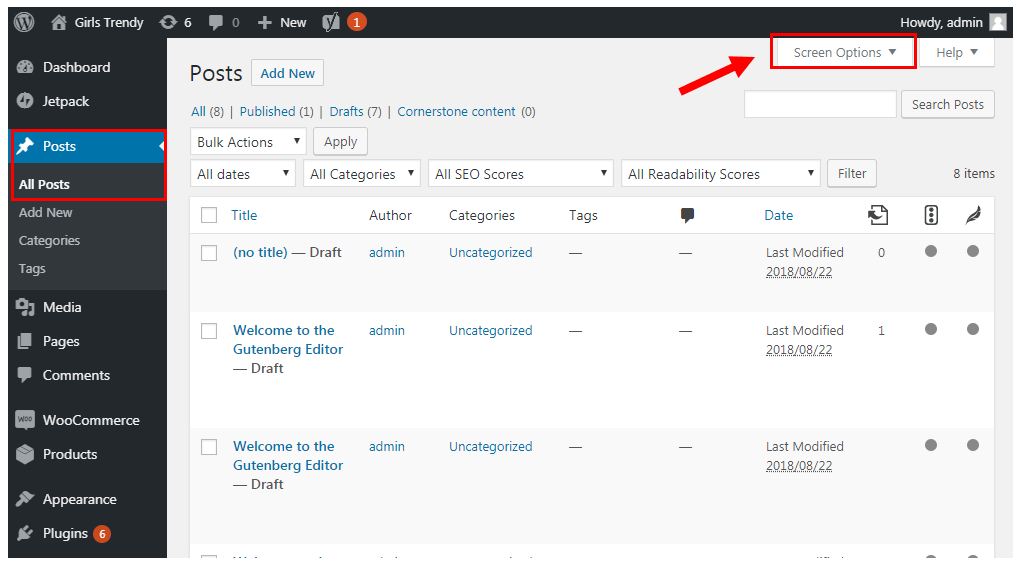 You will see a pull down menu where you can enter the number of items per page to the number you want. In my case, I changed it to 1000 items per page. Next, click on the "Apply" button and WordPress will display 1000 posts per page for me.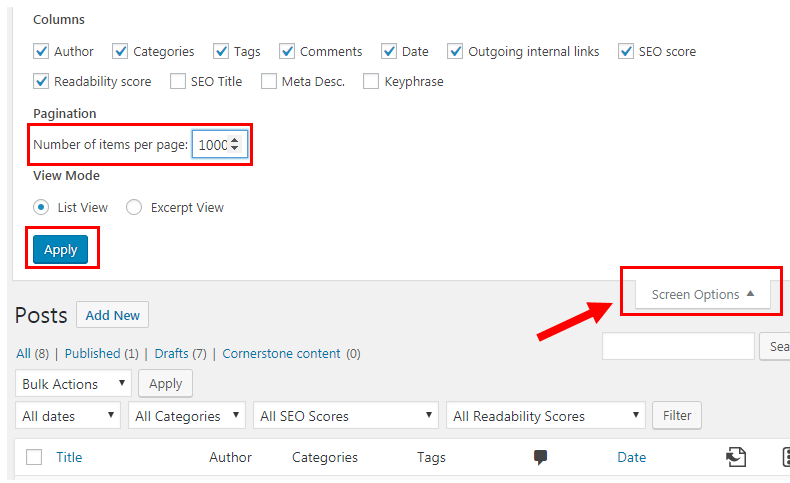 Now, I can do a bulk delete of 1,000 posts each time. However, for 13,000 records, I still have to repeat the deletion process for 13 times. Furthermore, deleted records are just being moved to the trash and not permanently removed yet. This means that you need to repeat the delete process 13 times again to permanently remove all the records. So, is there a better way to bulk delete WordPress posts? The answer is yes, by using a plugin.
Bulk Delete Using a Plugin
There are many plugins that you can use to do bulk delete of WordPress posts. For me, I am using "Bulk Delete" plugin. You can easily download and install this plugin in WordPress.
Once you have installed the "Bulk Delete" plugin, you must activate it before use. Now, go to Bulk WP > Bulk Delete Posts page to start delete posts. There are different ways you can delete post using this plugin and the first method is delete post by Post Status. You can further filter post by duration and delete them permanently without sending to trash (This is the function l like). For Pro version (paid version), you can even set a schedule to delete posts.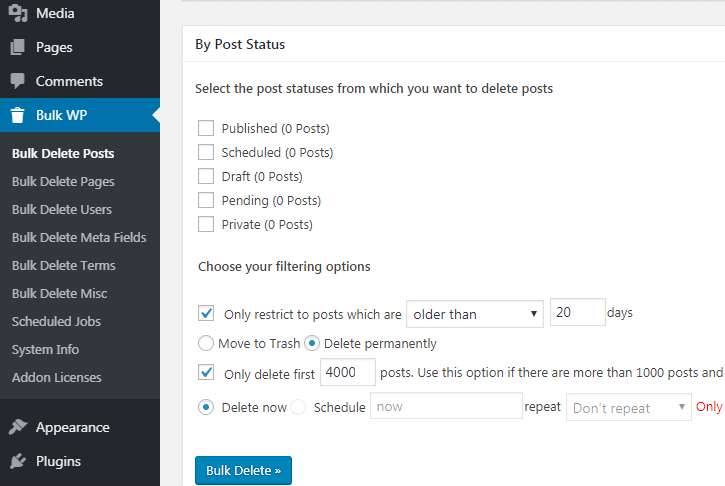 When you scroll down your screen, you will see more options you can choose from to delete posts. The available options are delete By Post Category, By Post Tag, By Taxonomy, By Post Type, By Comment Count, BY URL and more.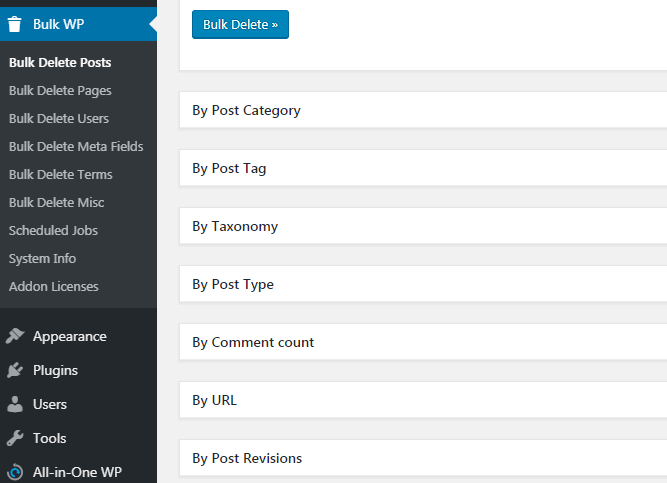 Lastly, thank you for stopping by and I hope my sharing helped you learn how to bulk delete WordPress posts. 🙂
To Your Success,
Kwah Choon Hiong