AWeber Email Marketing Software Reviews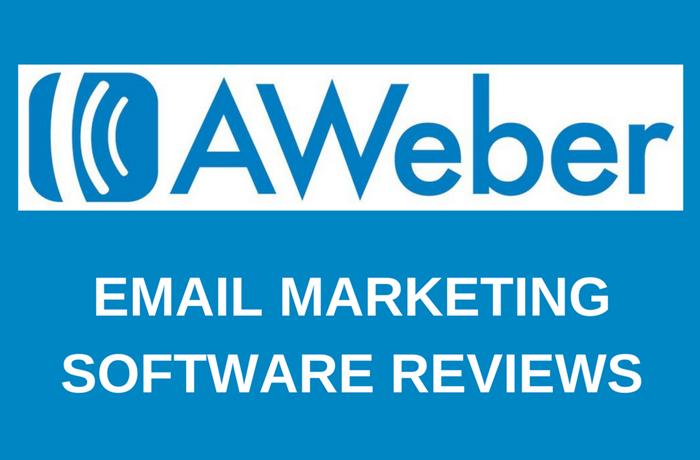 Today, I am going to write a review on AWeber email marketing software. AWeber is one of the best email marketing software out there in the market.
If you are running a website and has a list of subscribers, you would need email marketing software. It helps you to keep in touch with your subscribers by sending the latest update of your website. Of course, it helps you to manage your email and subscribers too.
I will start with an explanation of what is email marketing just in case you don't know what it is. Email marketing is a marketing process that involves reaching out your customers by use of email.
Basically, any email communication that helps to build customer loyalty, trust in a product or company or brand recognition is considered email marketing.
Email marketing is an efficient way to stay connected with your customers while also promoting your business.
Now that you have the basic understanding of what is email marketing, let's back to my AWeber email marketing software reviews.
Product Name: AWeber
Website: http://www.aweber.com
Price: Free for the first 30 days, $19 per month after that
My Overall Rating of AWeber: 8 out of 10
What is AWeber?
AWeber is an email marketing service provider with over 100,000 small business clients worldwide. As I mentioned earlier, it helps you to keep in touch with your subscribers who have requested to be on your mailing list.
Basically, it is a software that for you to:
Collect new subscribers to your website.
Manage subscribers list.
Create autoresponder follow up email series.
Schedule a broadcast email to inform your subscribers about your business new activities or events.
Create sign up forms for you website
and many more things you can do with email marketing.
Collect And Manage Subscribers
Email marketing is a powerful communication tool for building relationships with your customers. It also gives you a change to expand your reach to new customers.
This is exactly what you can do with AWeber. You can easily use AWeber to collect subscribers to grow your email list. If you have an existing list of subscribers, you can easily import it into AWeber.
You can import your subscribers list from a file. AWeber supports import from both Excel and text files (xls, xlsx, tsv, csv and txt). You can upload up to 20,000 rows of subscribers in a single file.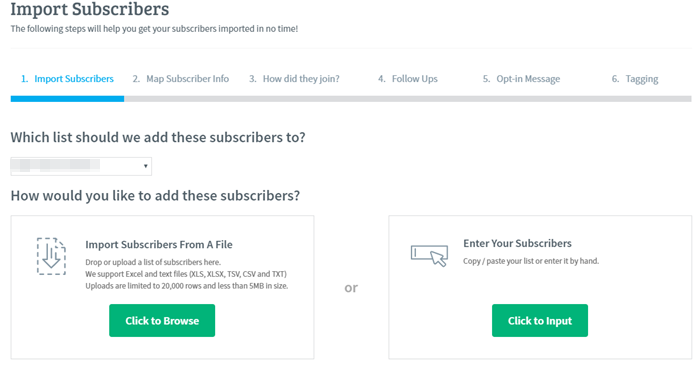 Managing subscribers in AWeber is also very easy. You can filter your subscribers list in different view by the date of your subscriber subscribed to your list. You can even create your own segment view.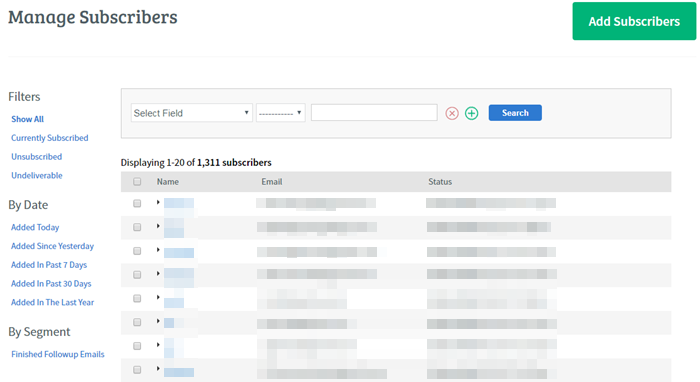 Create Sign Up Forms
You need a sign up forms to start collecting subscribers from your website. AWeber provides hundreds of sign up form templates, which you can customize and add it to your website.
The process of creating a sign up form in AWeber is fairly simple. It only takes you about 5 minutes to create a sign up form. Below is the screenshot of the sign up form creation page in AWeber.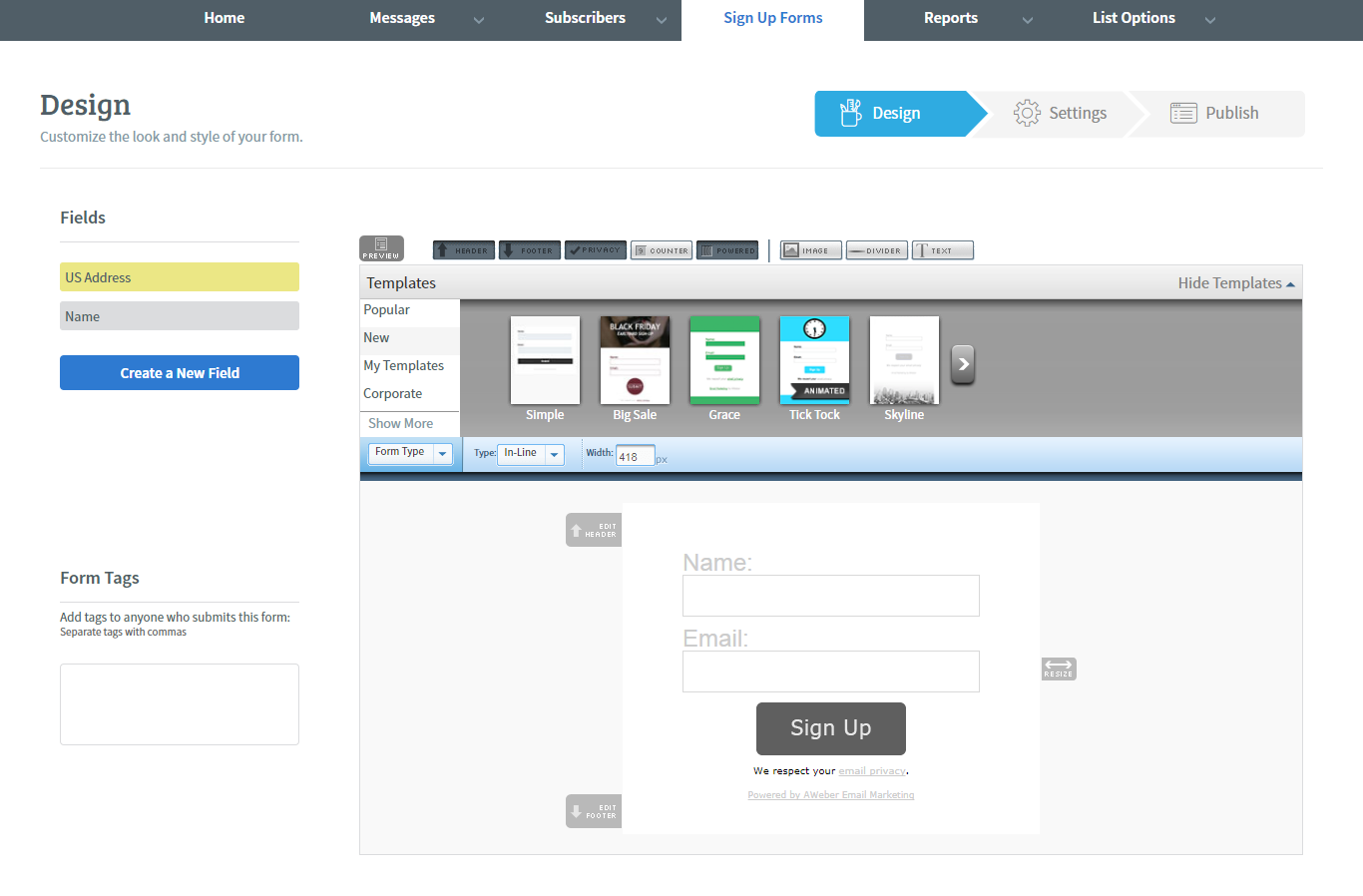 Create Automated Follow Up Series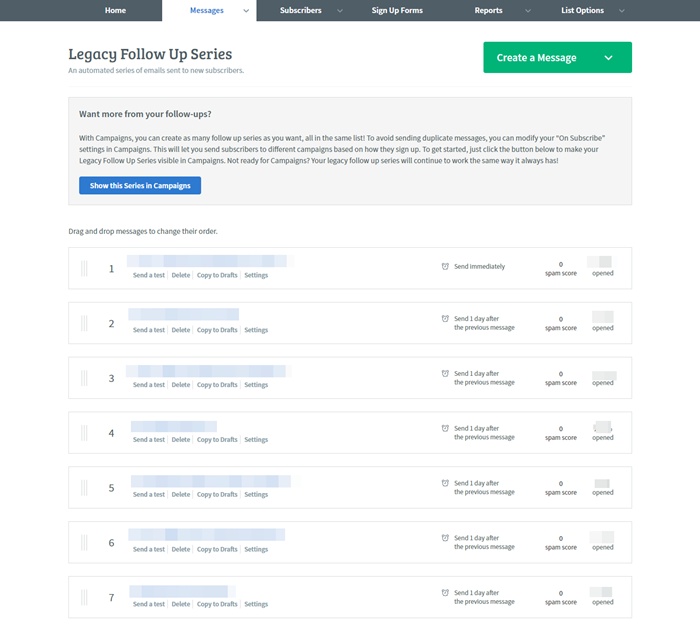 Have you ever subscribe to a website's email list and start receiving personal email from website owner every day? That's the power of email marketing software like AWeber.
It is not possible to send email to all of your subscribers without the help of email marketing software. Let's imaging you has an email list of 1000 subscribers and you need to send email to each of them. It will really drive you crazy!
So, what is follow up series?
Follow up series is a series of pre-written messages that are automatically sent to your subscribers in sequential order. You can set the interval of your follow ups to deliver to your subscribers. The first follow up email will always be sent immediately once new subscriber is added to your list.
Can you see the power of this feature? What it means to you is that you can carefully structure your message in advance and deliver it to your reader at the right time automatically. The best part is that you don't need to send the email yourself. You let it run autopilot.
Schedule A Broadcast Email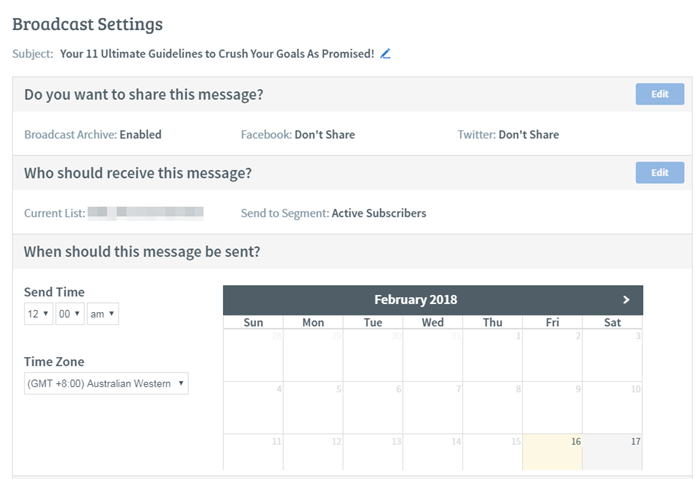 Follow up email series are a great way to welcome your new subscriber to your list. You could also create series of emails to deliver valuable content to your subscribers.
However, follow up series are not suitable to deliver a news, announcement, newsletter or promoting your new products. In this case, broadcast emails are perfect for delivering this information.
I think you might still be confusing about the different between follow up series and broadcast emails. Sit back and let me explain.
You use follow up email series to send evergreen content to your subscriber. You can send it at any time of the year. For example, you could create follow up email series that deliver content about the best way to lose weight. It is not time-sensitive.
Whereas broadcast emails are for time-sensitive information that to be sent out at specific time or on ad-hoc basis. For example, you are excited about your latest new product and you want to announce it to all your subscribers. So, you don't specify an interval for your broadcast email, you simply choose the send time of the broadcast.
Create A Campaign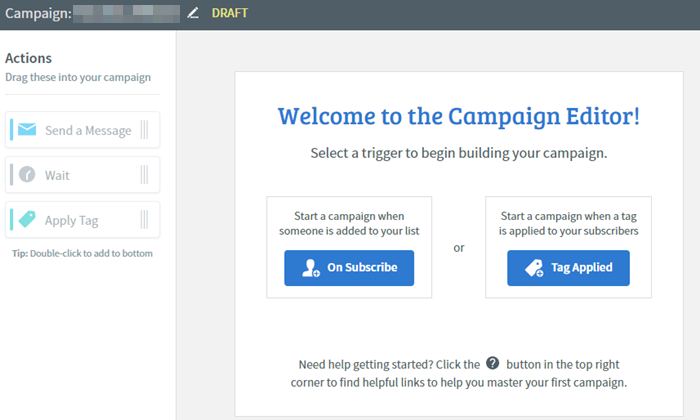 Campaigns is AWeber's email automation platform. This is something I am yet to use but I will try it out soon.
Campaigns allows you to send the right message to your subscribers at the right time base on their actions. This is not only saves you time but also makes your campaigns more targeted.
Basically, AWeber campaign provides 4 types of actions to create your campaign:
Trigger
Send a Message
Wait
Apply Tag
You can easily drag and drop these actions onto campaign Canvas.
To find out more on how to build a campaign, you may visit AWeber's website for more info.
Things I like About AWeber
One thing I love about AWeber is that you can find many useful video tutorials in their video library. AWeber also provide many great tips on email marketing through their blogs. I can always find the answer and solution from AWeber whenever I have a problem.
Things I don't Like About AWeber
I would say the plain text and html message editor is not very user-friendly and a bit annoying. I always have problem in editing the last line of my message when the message is long. Hopefully AWeber could improve on that.
How To Start With AWeber?
You can get started with AWeber with a simple step. All you need to do is simply visit AWeber's website and register for a 30-day Free Trial account. After you have registered, simply follow their training guide on how to get started.

Final Thoughts
There are many more features provided by AWeber but I am not able go through all of them with you. In fact, I can't.
If you plan to go into online business or affiliate marketing, you need an email marketing software like AWeber. It is essential for you to keep in touch with you subscribers and also keep them updated with the latest news of your business.
Besides AWeber, there many more email marketing software in the market and below are 2 examples you can try. Personally, I have not tried them.
Lastly, thank you for stopping by and read my AWeber Email Marketing Software review. I hope you enjoy it. If you have any question on which I didn't cover, you are most welcome to leave me a comment below.
To Your Success,
Kwah Choon Hiong