How To Trigger Aweber Campaign With A Link Click?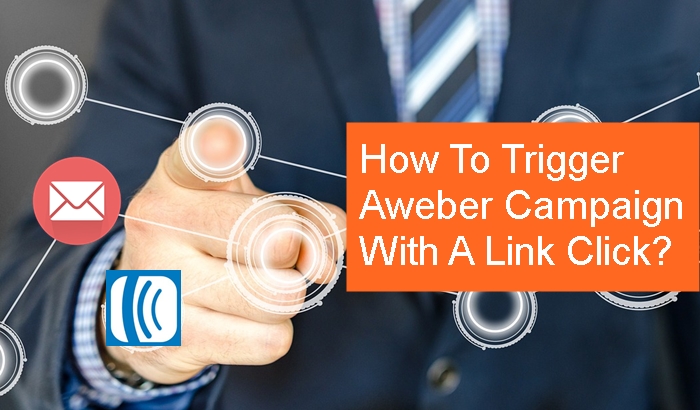 Today I am going to share with you a very useful feature I found in Aweber. If you are doing email marketing using Aweber, you should read this post. In this post I will share with you how to trigger aweber campaign with a link click.
I was planning to send a broadcast message to my subscribers to sign up my FREE training course. At first, I intend to redirect my subscribers to a new signup landing page. But I gave up that idea because I think it is too hassle for my subscribers to sign up again.
Lucky me, I found a solution to solve my problem. The solution allows my subscribers to sign up my Free training course by just clicking a link on my broadcast email. Yes, just a link clicked.
So, what's that?
I used the Click Automations feature to broadcast my message. How does the Click automations work is that a tag will be applied to my subscribers when they click on a link in my broadcast email. This tag will then trigger a campaign that consists a series of free training courses to send to my subscribers.
Next, I will show you the step by step to use the Aweber Click Automations. First thing first, you need to create a campaign that will be trigged with a tag applied.
Create Campaign with Tag Applied
First, select the list you want to create a campaign and then go to Message >> Campaign. Click the "Create a Campaign" button.
Give a name to your new campaign and click the "Create" button.
You will be given 2 options on how you want to campaign to be triggered:
– On Subscribe – Start a campaign when someone is added to your list.
– Tag Applied – Start a campaign when a tag is applied to your subscribers.
In our case, click the "Tag Applied" option.
When you select "Tag Applied" the campaign will begin when your subscriber gets a tag added to their "Subscriber Information."
Now, specify the tag name under the"Settings" section. You can create more than one tag name if you want to.
You will see this information listed under the "Start Campaign" section.
Besides using tags to begin a campaign, you can also use tags to stop people from starting a campaign as well.
Alright, you have created a campaign with tag applied. Next, you will create a broadcast message and add click automations to apply tag you created earlier.
Add Click Automations to Your Broadcast
First, go to Messages >> Drafts.
Then select the message you want to broadcast. There should be a link in this message. Now, click "Send Options" then "Schedule a Broadcast".
Under the "Do you want automations?" section, click the "Edit" button.
There are 2 automations options, Open Automations and Click Automations. In our case, we want to do Click Automations.
Under the "Then add these tags", enter the tag you created earlier into the text field. You add more than one tag. Then click "Apply" button.
You'll see the number of automations present in this message under the "Do you want automations?" section of the Broadcast Settings window.
Lastly, click "Send Message Now" to broadcast your message.

Closing Words
There are many more features provided by Aweber, Click Automations is just one of them. If you are into email marketing or affiliate marketing​, you would definitely need an email tool like Aweber.
There are other email marketing tools you can choose from but I am using Aweber. You may check out my review on Aweber​ if you are interest to know more about it.
That's all for now and I hope my sharing could helped you in your email broadcast automations. Do share this article with your friends if you found it useful.
Lastly, thank you for reading my post and I hope you love it. If you have any question or feedback, feel free to leave me a comment below.
"Sharing is the best way to learn"
To Your Success,
Kwah Choon Hiong