Wealthy Affiliate Starter and Premium Membership Comparison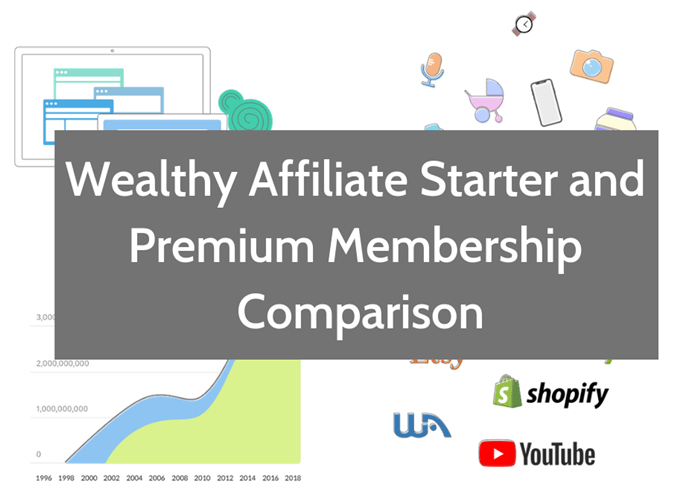 Today, I will share with you the Wealthy Affiliate starter and premium membership comparison. Wealthy Affiliate is a comprehensive affiliate marketing training and advance web hosting platform. It offers 2 types of membership, Starter and Premium memberships. Starter is a free membership and Premium is a paid membership.
I had been writing many posts on Wealthy Affiliate but have not do any comparison of the membership yet. If you want to find out more about Wealthy Affiliate, you can check out my review post on Wealthy Affiliate here.
I will do the comparison in a table format so that you can easily see the different. Here you go, below is the Wealthy Affiliate starter and premium membership comparison.
Education Features & Benefits
Features
Starter
Premium
Weekly LIVE Interactive Classes
Weekly Live Class training from industry experts. Jay, the lead trainer in the live classes, is going to blow your mind and advance your skill sets on a weekly basis with insights into new, and bleeding edge strategies.
❌
✅
Plug Into Over 300 Hours of Expert Education
Every live class is published as a "replay" and as a Premium member you are going to get access to ALL of the past live classes. This includes over 300 hours of education on absolutely every topic imaginable. If you want to redefine your business and scale to entirely new levels, this is worth 100 times the cost of the membership alone.

❌

✅
Online Entrepreneur Certification (50 Lessons)
This is a 5 Phase, 50 lesson fundamental courses is going to be the fundamental core of your knowledge base and by the time you are finished this training you are going to be well equipped to succeed within ANY niche, category or vertical online. This training is updated regularly to keep you ahead of your competition and industry trends.
10
50
Affiliate Bootcamp Training (70 Lessons)
Affiliate Bootcamp is going to take you from a potential newbie in the "make money" niche, and turn you into a thriving and successful entrepreneur. No secret is left unattended, no golden nugget left out. Affiliates that have taken this course are thriving and many will be attending the full expense paid trip to Vegas this year (and you can too).
10
70
Incredible Catalogue of Industry Training
There are 1,000 training modules that covering everything you need to know in running an online business. There will be new training modules being created through the "community training" program. Subject matter experts are contributing to the education you get at WA and you get full access to this within Premium.

❌

✅
Classrooms, Evolving Daily (12 Classrooms)
Wealthy Affiliate has the most diverse subset of training in the world. There are MANY ways in which you can build a business and monetize it online. From e-commerce, drop shipping, local marketing, Adsense, Facebook ads, SEO, pay-per-click, email marketing, lead generation, etc. All of these topics are going to be covered within the classrooms and throughout the platform at Wealthy Affiliate. If you don't see the training you are looking for, simply request it. An expert within the community will build it!
2
12
Earn Revenue Creating Your Own Training
As a Premium member (after 3 months) you can create your own video training, text tutorials as well as courses. Payments for training are sent monthly and it can be a way to subsidize your entire membership costs at
Wealthy Affiliate.

❌

✅
Your Own Authority Wealthy Affiliate Blog
You have your very own profile blog at Wealthy Affiliate that you can use to share your experiences and your journey online. These blogs are amongst the highest ranked in the world. You will literally see your posts in Google and other search engines within minutes and through time, you might have MANY of these ranked. The side effects? Revenue. Every person that visits your blog at Wealthy Affiliate and ends up joining you get full referral credit for.

❌

✅
Website Features & Benefits
Features
Starter
Premium
A Website Platform You Can Grow With
As your business grows, your website platform is going to need to grow with you and allow for higher traffic websites, and more websites. At Wealthy Affiliate you can run several multi-million dollar websites from ONE platform in SiteRubix. You will not outgrow the platform here and as a Premium member you can host up to 50 websites total.
2
50
More Than 3,000 Beautiful Website Designs
Your website design is something personal and it is nice to have choice. As a Premium member at Wealthy Affiliate you are going to have access to more that 3,000 beautiful themes. These themes are "mobile" ready and there is a design available for every type of niche website.
12
3000
51,973 Website Feature "Add Ons"
There are over 51,000 "feature" extensions available within Premium that you can use to ENHANCE your website in every imaginable way. Everything from building membership sites, adding shopping carts to your site, image/design plugins, font plugins, and plugins for managing social aspects of your business. These are FREE and installed on your website with a click of a button!

❌

✅
SiteDomains, The World's Only All Inclusive Domain Platform
At Wealthy Affiliate, you have access to all the features you would expect other domain registrars to charge for. Every domain comes with WHOIS Privacy Protected, 24/7 Support, Next Year Guarantee Pricing, Domain Security, Unlimited Email Accounts, & Advanced DNS Management & Instant Set-up. As a Premium member, you will have access to all of these features for no extra cost with any domain that you register through SiteDomains!

✅

✅
SiteSpeed, Amplify Your Website Speed
A fast website is a higher ranked website. A fast website is also one that offers a much better visitor experiencing, leading to more "time on page", more people reading your content and more conversions. The SiteSpeed feature will lead to the fastest website load times in the industry.

❌

✅
SiteProtect, Increased Spam Protection
Website security is becoming more and more important to the overall success of a website. The SiteProtect feature at Wealthy Affiliate adds a three-point protection layer on your websites. Comment Spam, Back Office Hacking (passwords), and Website Load Speeds (Botnet Attacks). These are the three ways hackers look to wreak havoc on your business and we protect you from all of these with the SiteProtect platform.

❌

✅
SiteHealth, Website Analysis
SiteHealth is a dashboard that showing you the publishing frequency, content quality, visitor engagement/your engagement, plugins, website feedback, Google rankings and overall trust. Anything that can be tracked, can be improved upon and SiteHealth will help you do this with great efficiency.

❌

✅
SiteComments, Explode Your Website Engagement
Website engagement is an important factor leads to better rankings in search engines. Engagement leads to trust. Trust leads to conversions. Conversions lead to revenue. Within Wealthy Affiliate Premium, you have access to the "comment exchange" platform that will help you efficiently amplify engagement on your websites. Choose the number of comments you want, set the task, and hours later watch the comments come in.

❌

✅
SiteFeedback, A Focus Group for Your Website
One thing that is important when analyzing your website, is understanding how customers behave on your websites, how they react to your design, your navigation the overall flow. The SiteFeedback platform is going to allow you to get community feedback from REAL people in respect to your website, allowing you to efficiently improve your site design & conversions.

❌

✅
Advanced Website Training
There are hours of video training and more than 100 training modules that you will get instant access to that will help you become an EXPERT with WordPress. As you move through the core training at Wealthy Affiliate you will naturally be well versed, but the advanced website training will take you to the next level in terms of skill set. No technical skills required.

❌

✅
SiteSSL – Free SSL certificates (Website Encryption)
Websites with SSL installed on them are starting to rank much better than non-SSL websites in search engines! With SiteSSL at Wealthy Affiliate, you can set up SSL certificates for completely FREE on any domain that you own. These are typically "paid" services elsewhere (typically $50 per year, per domain), but completely included in the Premium membership for any domain that you host.

❌

✅
Hosting Features & Benefits
Features
Starter
Premium
24/7 Managed Monitoring
A dedicated team of "server administrators" that are keeping an eye on your website(s) performance 24/7/365.

❌

✅
24/7 Automated monitoring
There is a sophisticated layer of monitoring set-up on your websites to scan and find 100's of potentially critical "issues". The technology will then automatically deal with these issues to maximize your site performance, uptime, and overall website security.

❌

✅
24/7/365 Site Support – Average Response < 5 minutes!
Through the SiteSupport platform you are getting direct access to the server administrators to address any hosting issues you have immediately. This is 24/7/365 support. Average response time is less than 5 minutes for all requests.

❌

✅
Virus & Malware protection
With Wealthy Affiliate Managed Hosting, you can rest assured that you are covered from a "protection" aspect through the SiteProtect platform as well as built in virus/malware protection in our hosting.

✅

✅
Powerful Servers, Powerful Sites
With Premium hosting, you have not only access to the fastest servers in the industry, technology like SiteSpeed, to make your website run faster and more efficient for your customers. More speed equates to more rankings and more success!

❌

✅
SiteContent Features & Benefits
Features
Starter
Premium
The Ultimate Writing Platform
Quality content is the key to a successful website and subsequently, a successful online business. With SiteContent you are going to be able to efficiently build & organize your content, set & track your writing goals, and see how your writing abilities fair compared to the rest of the community.

✅

✅
Beautify Your Content With Over 1,000,000 Beautiful Graphics.
SiteContent Images is a platform offered within the Premium membership that allows you to choose and add images that can be used in any way you like. There are over 1+ million beautiful, niche related images to choose from and that you can easily integrate into your content & are automatically optimized for fast website load times.

❌

✅
Grammar & Spelling Perfection
Built by linguists and web content experts, SiteContent Premium finds and corrects 100's of complex writing errors, so you don't have to. It also "learns" from your activity! So, as you continue to write using the platform the grammar and spelling checker will get even more efficient!

✅

✅
Plagiarism Checker
"Plagiarism checker" is a sophisticated technology that compares your content to over 8 billion pages online. Duplicate content is not good for SEO so it is critical that you are aware of this key information.

❌

✅
Templates for Efficiency
Set-up certain content structures and layouts in minutes with SiteContent templates. Speed up your overall content design & creation by 300% simply by leveraging templates. As a Premium member you have access to MORE templates and you can create your own templates with a few clicks of a button.

✅

✅
Jaaxy – Keyword, Niche & Website Research
Features
Starter
Premium
Keywords & Opportunity is Unlimited
You literally have access to BILLIONS of keywords with a click of a button within the Jaaxy platform. Whether you are an Internet marketer, a local marketing company, an SEO firm, or a fortune 500 firm looking to get access to keywords for your business, Jaaxy produces the keyword data you need in a matter of seconds.

30 searches
Unlimited
SiteRank, Tracking Your Website Rankings
Instantly find out where your website is ranking in Google, Bing, & Yahoo with Jaaxy SiteRank. These insights will allow you to quickly determine what website activities are leading to rankings in search and which ones may not be, giving you a competitive "keyword insight" that your competition simply doesn't have.

30 scans
100 scans
Niche Revelation & Discovery
There are 100,000's of evergreen niches out there that are ripe for the picking. Being able to discover niches in intelligent new ways is something that Jaaxy prides itself on. From the ability to check out the hottest trends to finding "relevant" yet different searches, you will be able to generate brand new niche ideas in a matter of seconds using Jaaxy.

❌

✅
Reverse Engineer Successful Websites
Analyze the top ranking websites and find out exactly what they are doing and what is leading to their results. This can efficiently be done using Jaaxy through the Website Analysis platform. Discover metrics such as keyword density, meta tags, alexa rank, content insights, and backlink insights.

❌

✅
Brainstorming New Ideas
Within Jaaxy you have access to a brainstorm feature that is going to allow you to dissect the hottest trends. Having this insight will lead you to incredible new opportunities and the ability to stay in tune across many different niches.

❌

✅
Uncover Incredibly Valuable Domains
Every search within Jaaxy will reveal which domains are available for the given keyword. An average search will reveal MANY high traffic, high value domains with an average of 90 domains being checked with every search (3 per search term). This the quickest and most powerful way to come up with valuable domain assets that could be used in your business, or resold at a later time.

❌

✅
Conclusion
Whew! This is a very long comparison writing! However, I hope you gain more understanding about Wealthy Affiliate membership after reading my Wealthy Affiliate starter and premium membership comparison.
I would recommend you to sign up a FREE Starter membership to see it yourself. You are most welcome to leaver me message at the box below if you have any questions.
To Your Success,
Kwah Choon Hiong