5 Things I Love About Wealthy Affiliate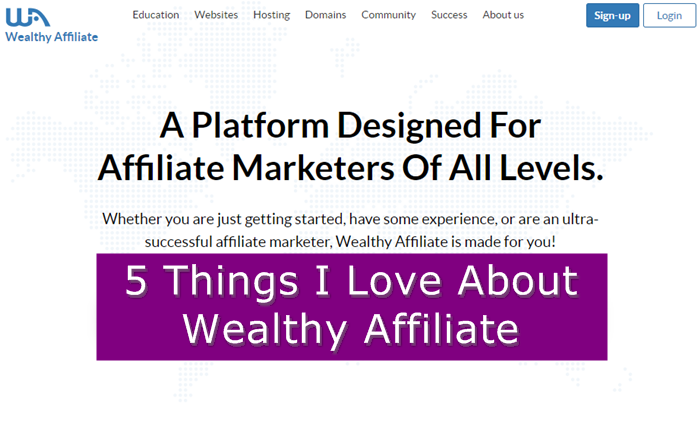 Time flies. I can't believe that I have been joining Wealthy Affiliate for 9 months! I want to take this opportunity to share with you the 5 things l love about Wealthy Affiliate. These 5 things are the reasons I continue stay with it.
This is the second time I write about Wealthy Affiliate. In my previous post, I wrote a review on Wealthy Affiliate. This time round I will be writing more on the things I really love about it.
In the past 9 months, I have learned many things in Wealthy Affiliate and I particularly love about their training. Besides training, their website builder is so easy to use and I can create and setup my website within minutes.
As a premium member, I also enjoy the benefit to use the powerful advanced keywords research tool. Last month, I moved my 2 websites to Wealthy Affiliate platform. The decision of the move is to save money and also because of the performance and security consideration.
Alright, let's see what the 5 things I love about Wealthy Affiliate are.
#1 Comprehensive Online Training
The main reason I join Wealthy Affiliate is because of their comprehensive training course. I was attracted by the contents and the course outlines. What's more it's free to join the community.
Basically, there are 2 major training:
Online Entrepreneur Certification
Affiliate Bootcamp
Online Entrepreneur Certification

Online entrepreneur certification is a training course for those who want to create and grow a business in any niche that they want. This training is a 5 phase series of courses. There are totally 50 lessons in the entire course.
If you join the free membership, you can attend the phase 1 course for free. This is a "Getting Started" course. In phase 1, there are 10 lessons in it. You can check this "Getting Started" course here.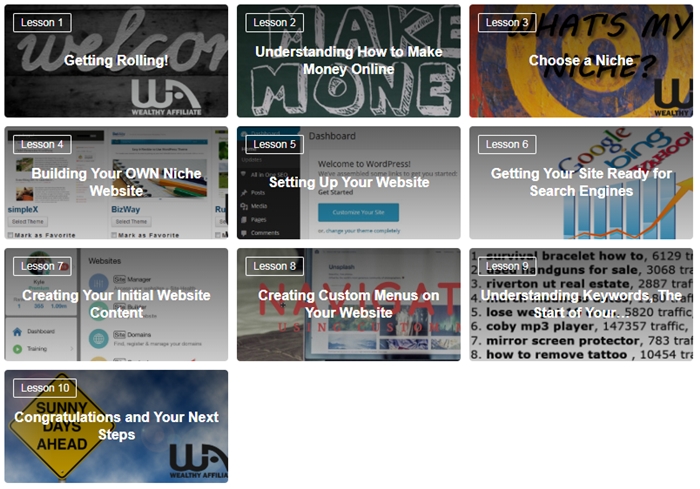 Phase 2 to phase 5 training courses are dedicated for premium membership members. Check out the features and benefits of joining the premium membership here.
Affiliate Bootcamp

The Affiliate Bootcamp training is a 7 Phase series of courses for people who want to promote Wealthy Affiliate. There are 70 lessons in the course and you will be walking through the process of creating and establish the business.
Same as Online Entrepreneur certification training, you can attend the phase 1 training for free when you join the free membership. Check out the phase 1 training here.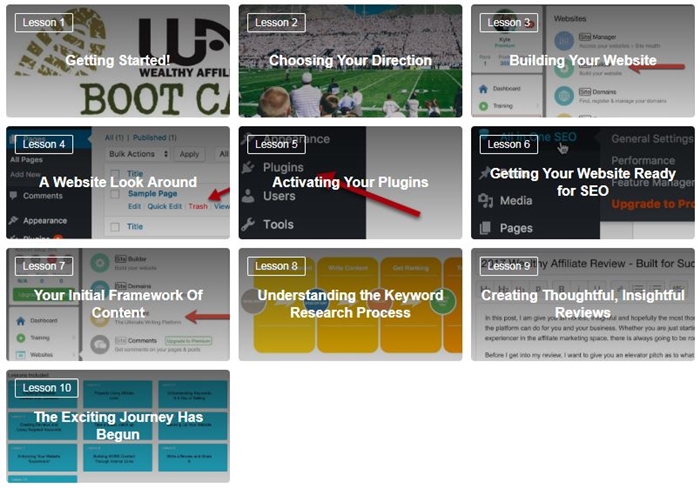 Below are the outlines of phase 2 to phase 7 bootcamp training courses:
Phase 2 – Content, Keywords and Conversions
Phase 3 – Giving Your Site Social Value
Phase 4 – Get Visual, Get Aesthetic. Get a Brand Through Media
Phase 5 – Knowing Your Audience & Catapulting Your Referrals
Phase 6 – Bing, Yahoo, and The Power of PPC
Phase 7 – How to Scale Successful PPC Campaigns
#2 The Easiest Website Builder
Website is the foundation of every online business. However, not everyone could build their own website especially for people who are not techie in IT. Building a website could be a scary matter for them.
Besides building the website, there are some other aspects that you need to take care of. For instance, website performance, security, spams protection and so forth. All these matters are very technical. As an IT person myself, I found it challenging as well not to mention for those are not techie.
As an online business owner, you should be focusing on building and expanding your business not the technical.
Wealthy Affiliate did a very good job in creating the world's easiest website builder. Literally, you can create your brand new website in less than 30 seconds with Wealthy Affiliate website builder. Let's check out the below video to see how you can create a website in under 30 seconds.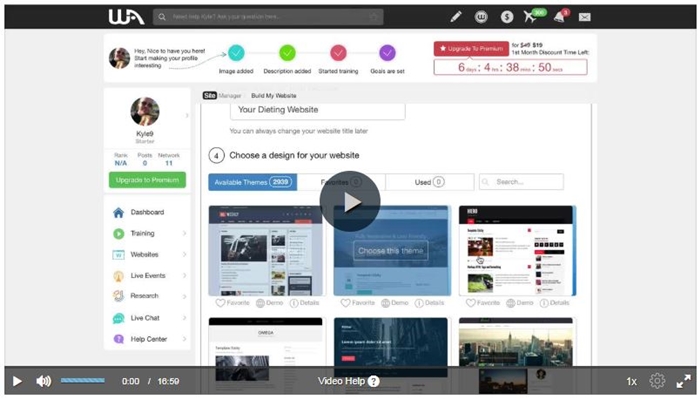 As a premium member, Wealthy Affiliate gives you free SSL (HTTPS) on your website. SSL protects your website with 256-bit encrypted connections and it is favoured by search engines. In other words, it will improve your website's SEO and ranking on search engine.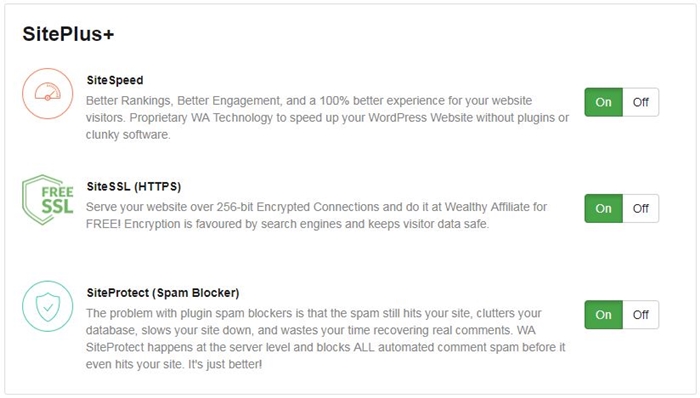 This is also the one of the main reasons I moved my websites to Wealthy Affiliate because I want to enjoy the FREE SSL! 😛
#3 Live VideoTraining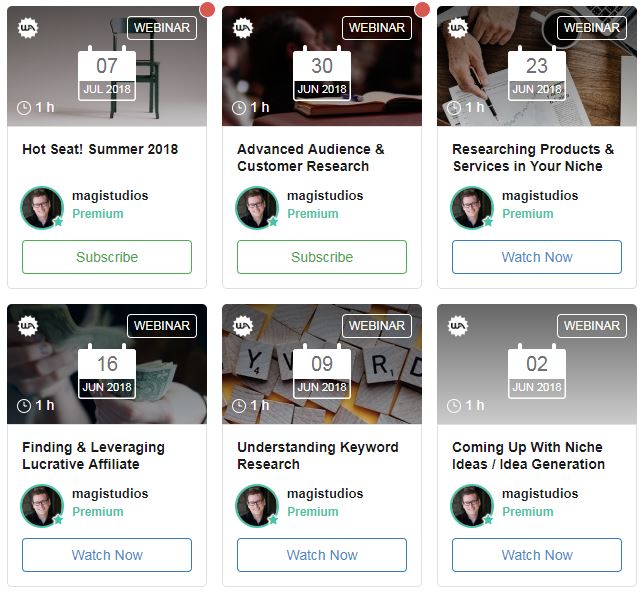 As premium member, you are granted access to the live video training class. It is a free weekly webinar at no extra cost. If you missed the live training, you can still watch the replay video. There are more than 100 of video training classes you can watch in Wealthy Affiliate.
#4 Powerful Keywords Research Tool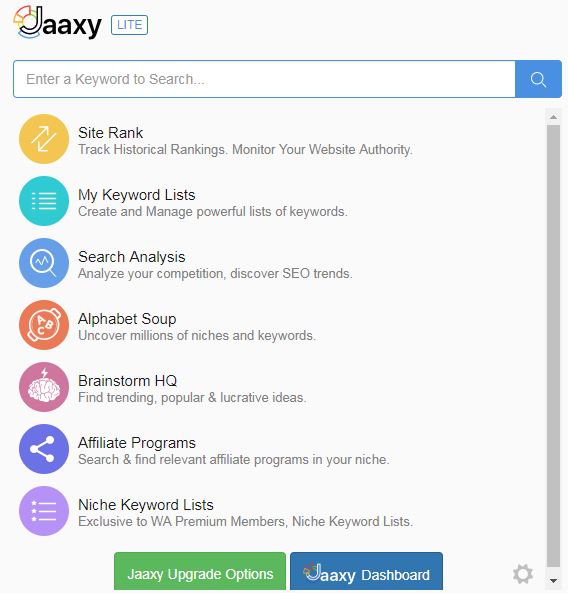 When you have a website for your online business, you need to create content for your website. You need to create quality content to attract more users to visit your website and this is what we call "traffics".
All content you write should base on a keyword because it will affect your ranking in Google. In other words, keywords are the root of all your SEO success. You may check out my blog post on keyword research.
So, how do you find a keyword for your content?
There are many ways to find a keyword, it can be as simple as using Google search with the "Alphabet Soup" method.
Of course, it would be good if you can do your keywords research with the help of keywords research tool. In view of the important of keywords research, Wealthy Affiliate provides an advanced and powerful keywords research tool. Both free and premium membership can enjoy this tool. Of course, premium members will have more privilege than free members.
Ops! I forgot to tell you the name of this tool. It has a unique name, Jaaxy. Check out my review article on Jaaxy to find more about the powerful features it has.
#5 Excellent Support Team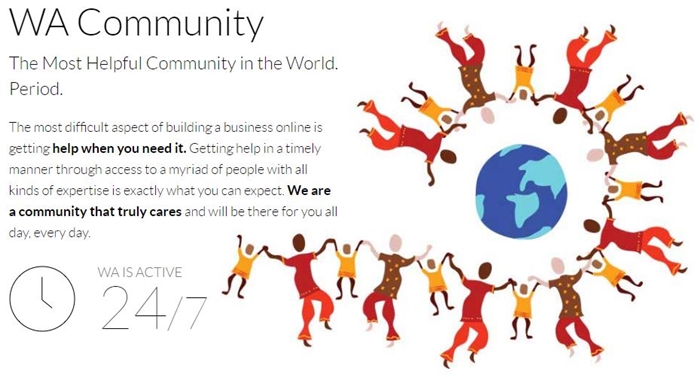 When you are building your online business with Wealthy Affiliate you won't feel lonely and you are not alone. Wealthy Affiliate is a community with members from around the world. This is the reason they are active 24 X 7.
You can always get the help you need from the helpful and caring community. There are many professional marketers in the community and they are very helpful.
The technical support team is excellent, and I must share with you here. There was a time I found my website down and I quickly contact the support.
I thought it would take some time to fix the problem. But I was surprised by the support team when they reply me that my website is up running again. It was just a few minutes after I reported the problem.
Conclusion
There are more features you can find in Wealthy Affiliate. However, what I do today is to summarize the 5 things I love about Wealthy Affiliate. This is a wonderful platform. It is not just a training platform, but it is also a platform to host your website with advance technology.
With the powerful tools and full support from the community, your success rate is surely increased by multiple times. Check out my review on this best affiliate marketing training course​ now. Signup the FREE membership​ account to give it a try and see it yourself.
Lastly, thank you for stopping by my website and I hope you enjoy reading my article. As usual, if you have any feedback or comment please leave it at the text box below.
To Your Success,
Kwah Choon Hiong
​